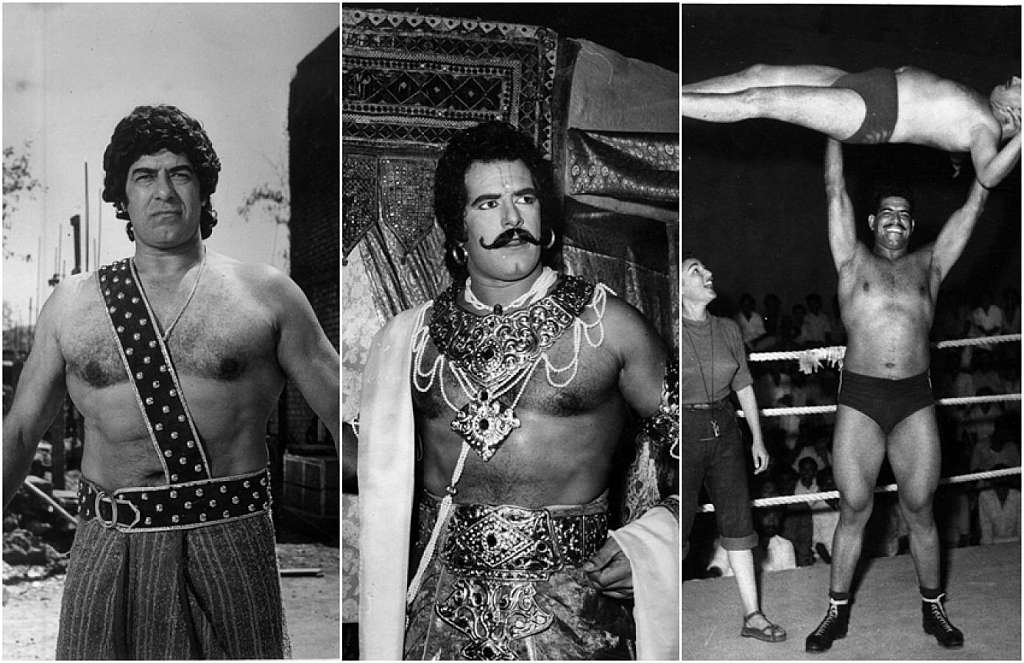 Dara Singh Randhawa was an Indian Pehalwan, Freestyle Wrestler and Professional Wrestler, Actor and Politician. He started acting in 1952 and worked in more than 175 films and some of the biggest television serials. Mr. Singh was the first sportsman to be nominated to the Rajya Sabha (upper house) of India by the President of the country. He worked as Hindi and Punjabi film producer, director & writer and he acted in films and television. He is known for his role of Hanuman in the film Bajrang bali (1976) and in Ramanand Sagar's Ramayan.
Dara wrestled since his childhood in Amritsar. He went to Singapore in 1946 and won the Indian Style Championship of Malaya in 1951. He was one of the most popular wrestlers of his times, who won the World Wrestling Championship in 1968 and has an amazing record of more than 500 fights and did not lose any. He earned the title of Rustom-E-Zamaan. His fights were always witnessed by massive crowds and cheering him on were also prominent personalities like governors of states and Prime Ministers of various countries.
In June 1983, he announced his retirement from wrestling. He won Rustam-e-Hind, the Championship in 1954. He won the Commonwealth Championship in 1959. He was known as the Iron Man of Indian Cinema and the original Muscle Man of Bollywood`. He is listed as the 10th greatest heavyweight wrestler of all time by wrestling historian Charles Mascall and inducted in the Wrestling Observer Newsletter Hall of Fame. He was also inducted in the WWE Hall of Fame in the year 2018.
The highly respected star also acted in a number of popular movies, for which he has received numerous awards.  He is the first actor to have a movie named after him, which was Darasingh: Iron Man. Few of his successful movies can be named Faulad, King Kong, Lootera, Daaku Maan Singh, Karma, Mera Naam Joker, Mahabharat, Veer Bhimsen, Balram Shri Krishna, Dil Apna Punjabi, Jab We Met, Mitter Pyare Nu Haal Mureedan Da Kehna, Lambardaarni, Samson, Hercules, Tarzan etc.
He worked in all major language films such as Hindi, Punjabi, Haryanavi, Rajasthani, Tamil, Telugu, Malayalam, Gujarati and Marathi. After Hindi films, he did maximum films in Punjabi and his movies like Jagga & Main Maa Punjab Di won state as well as National Awards.
As a producer, he produced 14 films in Hindi & Punjab and a TV serial under the banner of Dara Pictures and Dara Productions. Some of them were big blockbusters!
He is the proud owner Dara Film studio, which started functioning from 1980 and is situated at Mohali, Punjab.